By now, anyone reading this most likely knows that Amazon is the world's largest online retailer and is seemingly taking over the world as it continuously dives into several other markets.
What does that mean for you, and how can you take advantage of selling on Amazon? You can sell on Amazon, either through Amazon FBA (fulfilment by Amazon) or FBM (Fulfillment By Merchant). As an FBA seller, you ship your products to an Amazon fulfilment centre, where they basically take care of the rest. As an FBM seller, you fulfil all the orders yourself, leaving you responsible for more of the process.
Now we are going to cover each one so you can find out which will work best for you. 
How Does FBM Work?
As an FBM seller, more of the work is on you. However, this may be beneficial to your operation. FBM could be a great choice If you sell heavy products or have a warehouse handling shipping and taking care of customer service. If you sell only a few products or they're homemade then FBM could be the better option for you as well. 
To get started as an FBM seller, you must do a few things. You go and create an Amazon sellers account, enter all your business information and start listing your products. Under the sellers portal, you click "I'm adding a product not sold on Amazon". Then enter the details of your product. 
Now the rest of the process is on you when it comes to shipping, returns, and customer service. This is one reason why most sellers use FBA. As an FBM seller, the fees are cheaper because of the added responsibility. 
How Does FBA Work?
FBA is the best option for most people and why the majority of sellers use FBA. As an FBA seller, you pay more Amazon fees, but you don't deal with shipping, returns, or customer service. It's one of the reasons it's so appealing. Essentially, getting started as an FBA seller is the same process as becoming an FBM seller. The only real difference is that you ship your products to an Amazon fulfilment centre. Become an Amazon FBA seller and get started today.
You can source your products from local stores, online retail stores, and wholesale suppliers. You can also start a private label company, where a 3rd party company makes your brand's product with your own business logo. 
It's also worth mentioning that as an FBA seller you have the chance for your products to be featured in the "Buy Box" section. The buy box is where 83% of all Amazon sales come from. To do this you must meet the eligibility requirements. Even if you are eligible, it does not mean your products will be featured in the buy box.
The FBM and FBA Comparison Breakdown
Cost Comparison
Professional plan prices begin at £29.4 a month, plus fees to get started. You can use the individual plan where you pay £.73 per item sold. However, with the £28.68 plan, you can sell as many products as you like. It's also worth mentioning Amazon collects a referral fee from each sale regardless of your plan. The fee charged depends on the category of the item you are selling. As mentioned before the FBM fees are cheaper than The FBA fees.
The following shows an example of Amazon FBA fees and their ranging prices:
For example, FBA fee prices start at £1.45 per unit for fulfilment. That price is for the smallest items with max dimensions of 16″ x 9″ x 4″ and weighs 4oz or less. That meagre £1.45 per item goes up to £100.97 + £.67/lb above the first 90 lbs per unit for all special sizes. That is a considerable price range, so make sure you know everything about your products' dimensions and specifications. 
As an FBM seller, you still must pay those referral fees we spoke about earlier. Thankfully, you don't have to worry about the ranging FBA fulfilment fees we just covered. You must know of the other expenses involved in running an FBM business before starting.
The cost for inventory storage and fulfilment is on the FBM seller. It could be as cheap as using your garage or home office for storage and fulfilment. On the other hand, it could be expensive. It may consist of warehouse leases and a team to handle logistics and customer service issues. For these reasons, no two FBM sellers are the same when it comes to cost. It could be more profitable for an FBA seller to become an FBM seller and vice versa. All of this depends on the final numbers, plan, and costs associated with running each business type. 
FBA Fees
Referral- (Ranges from 6% for personal computers to over 20% for specific jewellery, fine art, and gift cards)

Inventory Storage & Fulfillment- (Ranges from

£

1,45

per unit to

£

100.97 +

£

.67/lb

above the first 90 lbs per unit)

Monthly Plan
Individual: £.73 per item sold plus fees.
Professional £29.40 all you can sell plus fees
FBM Fees
Referral- (Ranges from 6% for personal computers to over 20% for specific jewellery, fine art, and gift cards)

Inventory Storage, Customer Service, Fulfilment & Materials- Price is N/A. Cost is specific to the FBM seller

Monthly Plan
Individual: £.73 per item sold plus fees.
Professional £29.40 all you can sell plus fees
Make sure you are profitable with your category and product before making a final decision and begin setting up shop. There are many tools that will calculate the margins for you, like the AMZScout FBA calculator.
Inventory 
As an FBM seller, you take care of all inventory logistics yourself. You do this by communicating with your supplier unless you handle your own production and inventory storage. Selling with FBM can have its benefits. You can customize each order by giving out special notes, along with adding extra items to any package. Doing this gives you the option to overdeliver for your customers and provide added value.
FBM sellers can benefit here by adding their own marketing materials that they would not be able to do via FBA. This can be a huge win for FBM sellers who have a separate ecommerce website they sell from. By adding your ecommerce store's marketing materials you can try to redirect those customers to your website. Not all customers will convert to buying straight from your ecommerce store. Those customers that do convert will be more profitable because you are not paying Amazon's fees. 
You have control over the entire customer experience when customers buy straight from your website. You will have access to your customers' information which allows you to directly retarget these people with your own marketing strategy.
Remember as an FBM seller the shipping is on you. Meaning you will have to choose your preferred shipping method. You still have the option to utilize Amazon for shipping your products. To do so click Amazon's "Buy Shipping" feature after an item is sold. 
When using Amazon to ship your products, they will supply tracking numbers that Amazon generates for you automatically, and sends to the customer. You must manage delivery by confirming, packing, and shipping your products as quickly as possible. When you are using premium or prime shipping your shipment must arrive to the customer by a certain time.
You also have to create "your own return policy" because as an FBM seller the returns and customer service are your responsibility. 
As an FBA seller here are the costs associated with your inventory's storage. Amazon's monthly inventory storage fees vary depending on the month, size of your product, and how dangerous your product is.
Monthly inventory storage costs for "standard goods":

Monthly inventory storage costs for "dangerous goods" that require Hazmat storage:

In addition to these monthly storage costs, there are fees applied to any products that are warehoused by Amazon for over a year. If the products held by Amazon are sold within a year then you don't have to worry about this fee.
As an FBA seller, your inventory becomes available for sale within 1 to 7 days after Amazon receives and processes your shipment. You must also ensure your inventory fulfils Amazons multiple requirements.
Here is a snapshot of the requirements you must adhere to: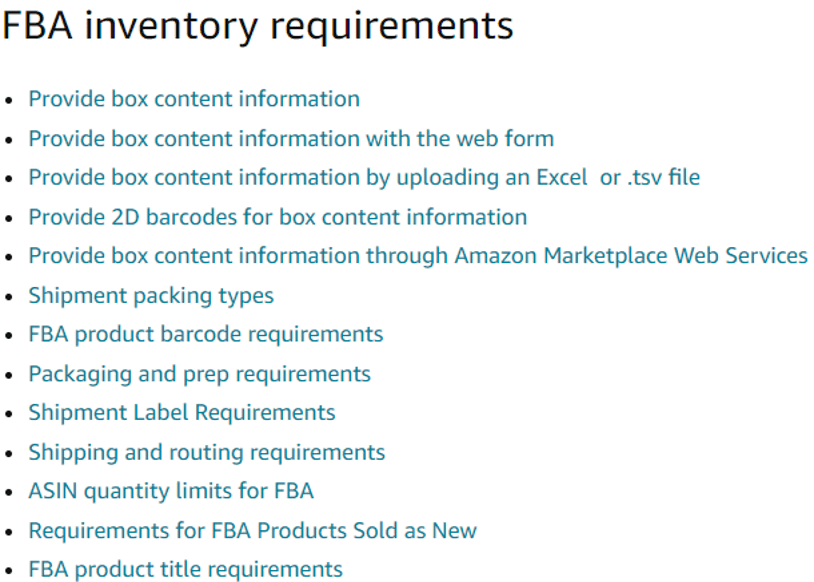 To dive deeper into the requirements and restrictions you can check out each requirement and its specifications on Amazon's site. 
Spended time on fulfilment
As mentioned before Amazon takes care of fulfilment for the FBA seller. This leaves the FBA seller with more free time here than the FBM seller. The time you spend on fulfilment as an FBA seller relies solely on how long it takes you to ship your products to Amazon. 
Spending time on fulfilment as an FBM seller differs for each seller and their operation. You could spend several hours a week on accepting orders, printing labels, packing and shipping each order. However, if you have a third party company that does this then you may only spend a few hours a week communicating your orders to the company who handles your fulfilment.
Final Thoughts
Now that you know this information, will you be selling via Amazon FBA or FBM?
Weigh the pros and cons before you make your final decision. You should be excited to get started but be smart in the process. Plan appropriately, and select the best option for you according to your business model.
There are currently over 2.5 million Amazon sellers worldwide so you can do it too. It is possible for you to triumph as a seller but you must take the first step. Get started today on your dream of becoming a successful Amazon seller because tomorrow is promised to no one.
This post was written by the AMZScout Expert Team,

a top 3 Amazon analytics tool worldwide.

 AMZScout helps sellers maximize growth and revenue.