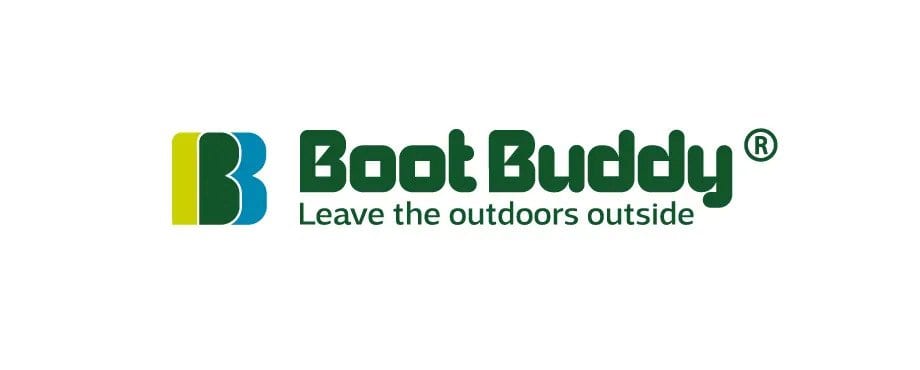 Delighted to announce a new client on board of Boot Buddy.
Who are Boot Buddy?
'The Boot Buddy is the invention of two brothers who were sick of being told off by their mum for bringing mud into the house. (Sorry mum!)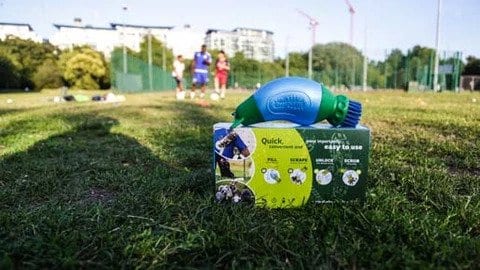 So where to begin with this story… Probably by quoting Bill Gates, "I choose a lazy person to do a hard job. Because a lazy person will find an easy way to do it." We shouldn't admit to being lazy but when it comes to cleaning our boots we weren't exactly keen! To sum up our approach to boot cleaning: Aaron (my bro) would wait for mum to do it and I (Gaz) would never clean them at all ever, sometimes my boots would even have studs missing. By not keeping our boots clean, we totally ruined them! But what could we do, there wasn't an easy way to keep them clean.
After football training one day, Aaron took a water bottle, plastic knife and a washing up brush then combined them. At first I saw the concept and said, "What are you doing? Go and do it the normal way with a hose/in the sink" But his idea worked, well sort of.

We then took the idea and had proper designs drawn up, after looking at all the different variations and possibilities we agreed that our current shape was the best. After a couple of months we were presented with a 3D prototype and to be fair it cleaned boots very well despite being a print out.
We wanted to manufacture in GB and so we found a small family run operation to begin making our prototypes but they were so good we began our full manufacturing with them and here we are today…The Boot Buddy.'
Backed up by Dragons Den
'Entrepreneurial teenager Arminder Singh Dhillon, aged 15, has become the youngest person ever to receive backing from three of the UK's biggest and most established business people. His timesaving invention that helps clean muddy boots and shoes, Boot Buddy, won support from Peter Jones, Deborah Meaden and Touker Suleyman in the new series of Dragons Den that kicked off last night.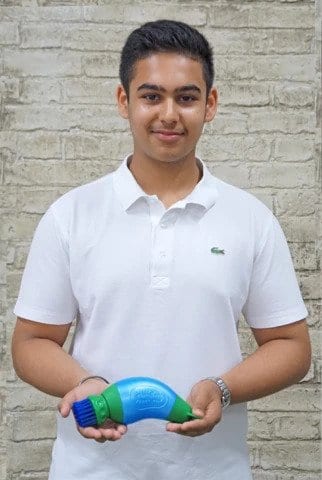 Arminder created Boot Buddy aged 11 as an easy way to clean his football boots after getting fed up of being told off by his mother for bringing mud in to the house. Seeking investment and guidance to help take his business to the next level, Arminder and his family braved the Dragons Den and secured backing from not just one but three dragons. Each dragon has invested £20,000 for a 10% share of the business respectively.
Arminder said, "The whole experience is indescribable. I'm still amazed at having seen my idea become an actual product and to now have the support of three such inspirational business people is incredible!
"Stepping in to the Dragons Den was definitely daunting but I'd rehearsed my pitch thoroughly and I had my mother and brother by my side for support so I wasn't too nervous."
Peter Jones commented, "We're so impressed by Arminder. He's come up with a fantastic product and had the drive and determination to see it through. He's leading the way for the next generation of great British business people."
Deborah Meaden added, "Living on a farm I can definitely see the need for a product like Boot Buddy. It will save you from spending countless hours cleaning mud off your shoes which is frankly one of the most tedious household chores there is."
Touker Suleyman concluded, "We're all delighted to be working with Arminder and hope that our collective experience and connections will help Boot Buddy become a household name."
Boot Buddy takes all the strain out of cleaning muddy footwear. It only requires a couple of minutes and 300ml of water to clean even stubborn dirt build-up. It's convenient, small and portable so you can spend less time cleaning and more time playing!
Boot Buddy works for all types of muddy footwear so whether you've been jumping in muddy puddles, playing lacrosse, hiking up a hill, strolling around the golf course or mucking out stables, this product is for you.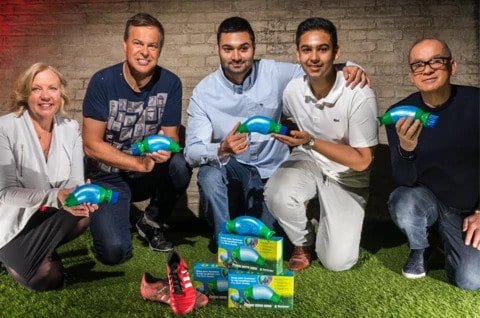 How did you come up with the idea for Boot Buddy?
A keen footballer, Arminder would return home with muddy boots after every training session and match. Frustrated with spending countless hours with a hose, toothbrush and knife he thought to himself there must be a quicker and easier way.
Inspiration struck after football training one day when Arminder combined a water bottle, plastic knife and washing up brush to create a very rudimentary version of Boot Buddy. Seeing its potential and having garnered the support of his parents, Arminder was able to draw up his design as a CAD which was turned in to a 3D model and then a fully functioning prototype. Manufacturing began from this point on and Boot Buddy was born.
What are your plans for the future of Boot Buddy?
A large part of the dragons' investment will be spent on marketing to take Boot Buddy to a wider audience. Arminder plans to attend various trade shows and festivals in the UK and abroad. He hopes Boot Buddy will one day become a household name saving people hours of wasted time by changing the way they clean their muddy footwear forever.'