Do you feel under pressure to keep up with your customer's orders and deliver a world class brand experience?
Growing your online brand isn't easy. It takes a huge amount of hard work and dedication to develop your product, design packaging, build a marketing strategy that consistently drives customers to your online store and provide the customer support that your customers expect.
While most business owners are heavily focused on creating a great product and building a brand, order fulfilment strategy usually comes way down on the list of priorities. Although order fulfilment isn't usually considered the sexy part of running a business, the experience of receiving one of your products is the most human interaction with your brand.
Do you want to know the secret sauce that all successful online brands have in common?
They all have awesome ecommerce order fulfilment strategies. Strategies that work in perfect harmony with their needs and requirements to ensure that the customers experience is at the heart of everything they do.
There 3 ecommerce order strategies that most successful businesses use to supercharge their online success and separate themselves from the competition. Which one is right for your business will depend on the following:
The size of your products
The number of orders you receive
How quickly you want to scale your business
To find out best winning strategy for your business, all you have to do is scroll down the page.
1. In-house order fulfilment
Also sometimes referred to as 'self-fulfilment' this is usually when brands hold their own inventory, an order is placed on their eCommerce store or marketplace and they send the product directly to the customer – essentially fulfilling orders themselves.
In the majority of cases, this is how most brands start out. When order volumes are still relatively small, it is easy to get up and running and is much more cost-effective. However, as your brand grows and the orders begin to skyrocket, it simply becomes unsustainable to keep depending on your Best Friend Sue and Uncle Dave to help you ship orders round the clock. When your orders really begin to skyrocket, it can become very difficult to meet your customer's expectations (unless you plan to ship orders 24/7)
Advantages
You retain total control – it goes without saying that in-house order fulfilment gives you're a greater level of control over your brand experience. You send each order individually, which allows you to add greater levels of personalisation to each order.
There could be a lot of cost savings – depending on the size of your business and operations, in-house order fulfilment will save you money as you will not have pay for warehousing and
Disadvantages
Time and energy – most businesses don't have a big enough team internally to give in-house fulfilment the attention that it deserves, and it quickly becomes an afterthought or is considered a low priority.
Fewer shipping discounts – Third-party logistics providers have strong relationships with the world's most trusted carriers, meaning they can negotiate the best deals and get the lowest shipping prices. Achieving this same level of negotiating power as one business is much, much harder.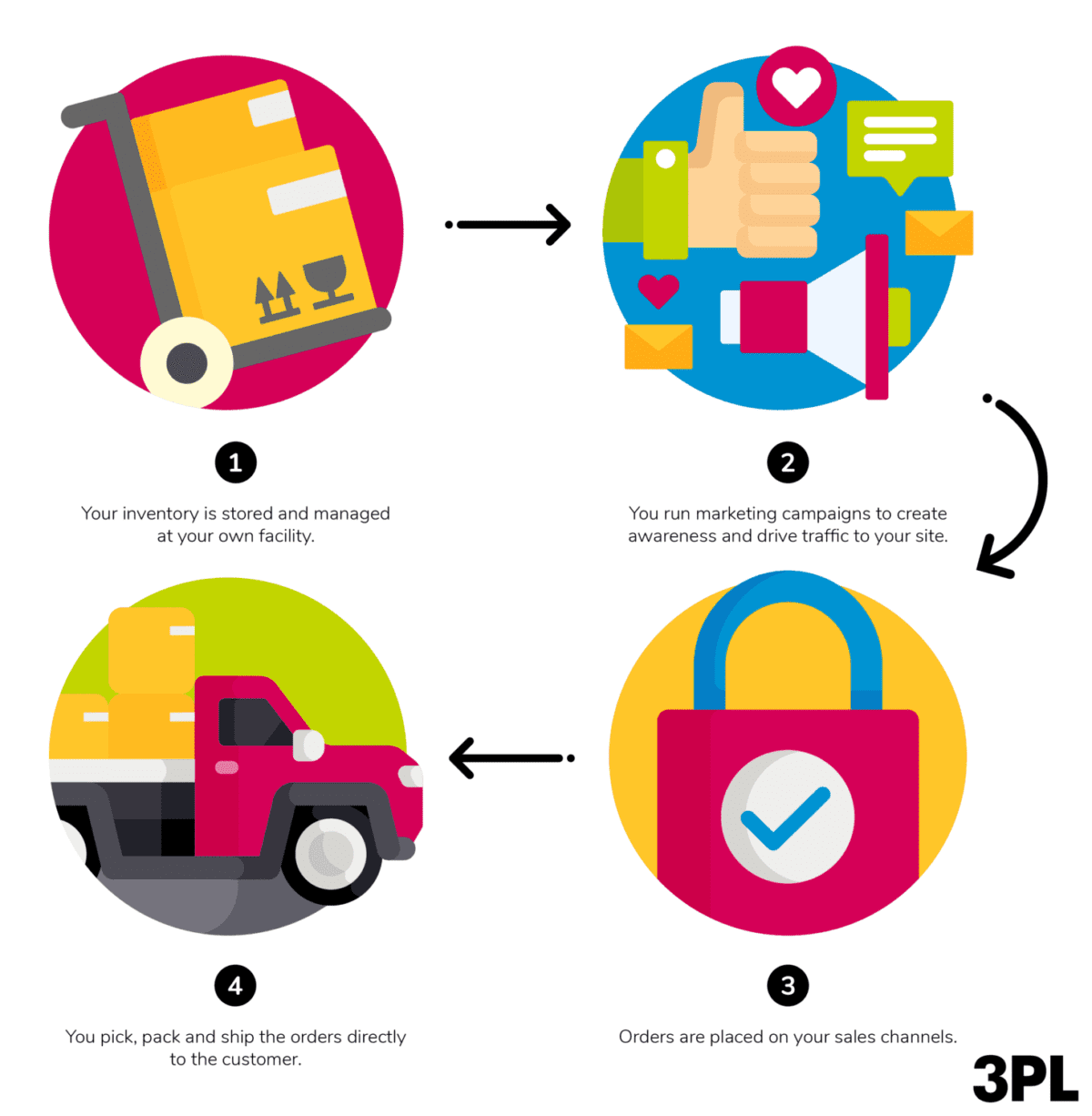 2. Dropshipping
The ecommerce fulfilment strategy where the manufacturer ships the product direct to the consumer on behalf of the retailer. Dropshipping popular because it means  the retailer minimises costs and carries less risk, because they do not have to hold an inventory – they can just focus on marketing and selling the products.
Advantages
You don't have to manage and store inventory – resulting in no need for warehouse space and a team to fulfil your orders.
New products can be market tested alongside your best-selling products.
Disadvantages
The only thing you control is the pricing. No control over packaging and shipping, which makes it difficult to build your brand and design an experience that will make customers fall in love with your products.
Fewer shipping discounts
Dropshipping can result in higher fulfilment costs. When your dropship you pay the real costs of stocking, picking, packing and shipping.
Its more competitive, the barrier to entry is low and lots of people will be selling the same products. In most cases, whoever has the lowest price, wins the customer and when a customer only buys you on price, it builds very little brand loyalty long term.
Shipping times can take far too long. Amazon has changed the game and customers expect to receive your orders, fast. Drop shipping from overseas can cause you big problems with unforgiving customers.
3. Third-party fulfilment
Using a third-party (3PL) to fulfil your customer's orders is a big decision for businesses. You are putting a vital part of your customer experience and brand building in someone else's hands. But if your business is now in a place where you are spending time fulfilling orders and very little time working on your business, then the time may be right to outsource to a company that has expertise in this area and a proven track record of success.
The right 3PL can also help you to expand your business as you expand into new sales territories and channels like Amazon FBA prep or retail stores.
Advantages
Focus your time and energy on growing your business. After all, this is the most important part of running your business.
Third-party fulfilment providers can become a key strategic partner, with the expertise to complement your business. Providing support with packaging
You don't have to store your own inventory; Third-Party fulfilment providers have flexible warehousing solutions that are designed to scale with your business needs.
Disadvantages
Find the right 3PL provider can be difficult. There a lot of third-party fulfilment providers competing for your business but finding one that you can truly meet your business needs and scale with your business is crucial, especially as your business needs evolve. The last thing you want to do is partner with a third-party fulfilment provider that you have outgrown within 6 months.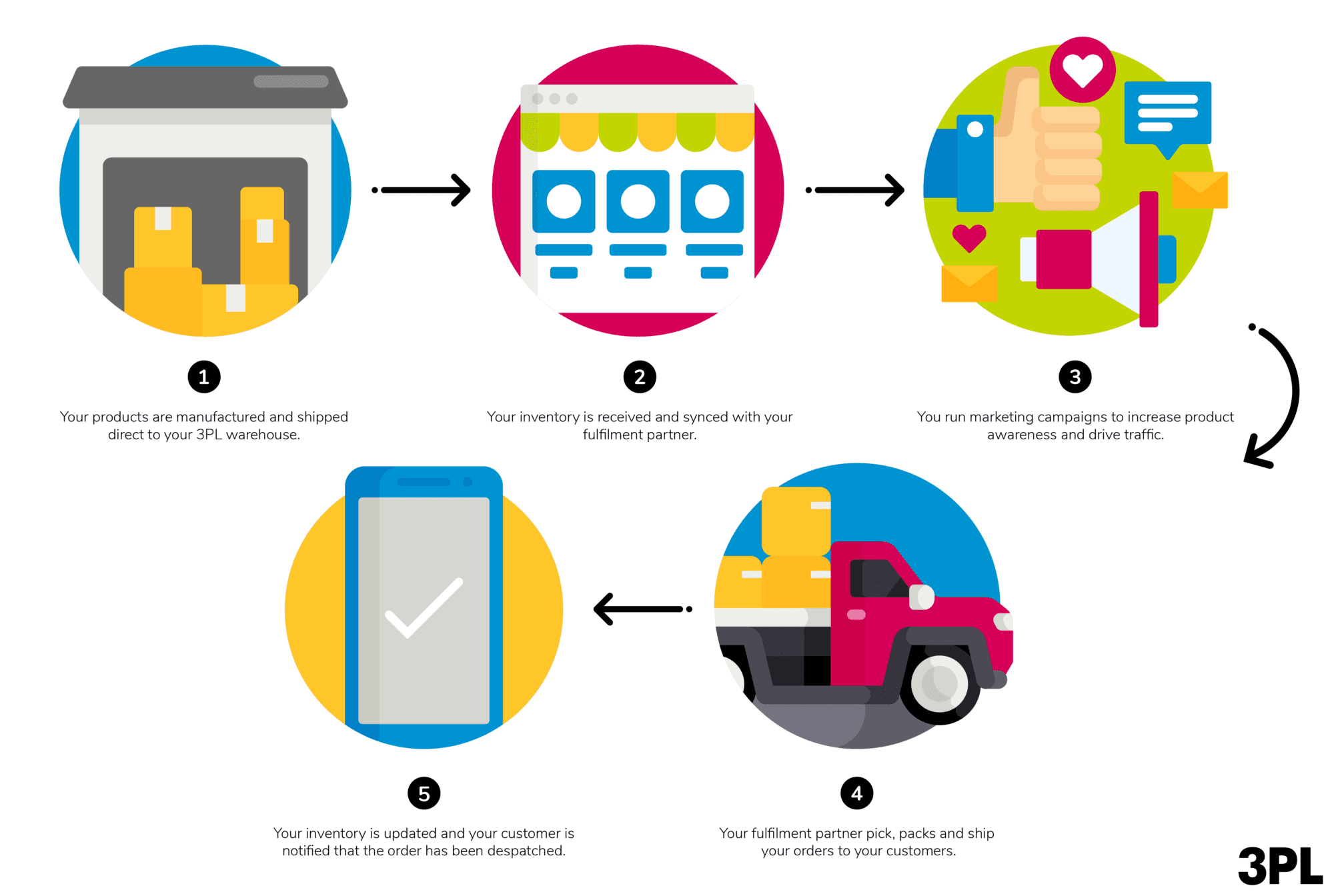 How to find the perfect 3PL for your business
 If you have feel that now maybe the right time for your business to use a third party fulfilment provider, then there are some key questions you should ask any potential partner before making your final decision:
What is the warehousing capacity?
If your business is growing fast, then the last thing you want to happen is quickly outgrowing your third-party fulfilment provider. Make sure they have enough space to grow with your business.
What technology do they use to fulfil orders?
The leading third-party fulfilment providers are now technology companies that provide warehousing. Your partner should have technology that enables you to:
Sync all of your online store and channels
Report your orders in real-time with data dashboards
Automate and control your inventory from anywhere
Track returns and exchanges as they happen 
What is the geographical location?
If you want your customers to get your orders as quickly as possible, then location is everything. A 3PL provider give you instantly upgrade your geographical footprint, with better transport links and have easy access to major motorways, ports and airports.
What is the cut off time for next day delivery?
You are outsourcing your fulfilment to a third party because you want to provide a better experience for your customers. Giving your customers the option of later cut off times for next day delivery can make a huge difference to your conversion rates, especially during peak season. 
What is the full range of services that they can offer?
As your business grows, your needs will evolve. It is important that you consider the long-term benefits of your 3PL, alongside the short term. Can your fulfilment provider handle these tasks if needed?
Returns handling
Repackaging products
Rework
Serial number capture
Freight management
Amazon FBA Preparation 
Customer support
Will you have a dedicated account manager, who will be on hand to offer help and support whenever you and your customers need it?
Who do they work with?
Do they have a proven track record of success working with brands like yours that also have similar product offerings?
Price
Last on the list, but always an important one for any business. Although costs can be a driver for many businesses it must not be your only consideration when making a final decision. If you only need a pure pick, pack and despatch solution, then the most cost-effective solution. However, if you are a growing brand that sells across multiple channels and countries then a third-party fulfilment provider must have the agility to scale quickly with your business and the ability to adapt to your business needs and provide solutions that support your business.